Welcome to the Elemental Science's Product of the Month!  This April, we are sharing the features of Exploring Science, from our preschool series of programs.
What are the key features?
Exploring Science is a complete 36 week set of plans to introduce your early elementary student to the world of science. It is centered on weekly topics that are explored through experiments from Science Play, nature studies and so much more. Exploring Science…
includes an scripted introduction for each weekly topic;
has weekly experiments and nature studies that coordinate with the weekly topic;
includes plans for additional activities as well as a list of living books to enhance your studies;
include both 2 day week and 5 day week schedule in the teacher's guide, so you can choose how many days a week you do science;
has coordinated and customized students pages that contain all the coloring, experiment and activity sheets you will need for the year.
Watch Elemental Science's preschool series video to learn more about the features of Exploring Science or view the sample of this program.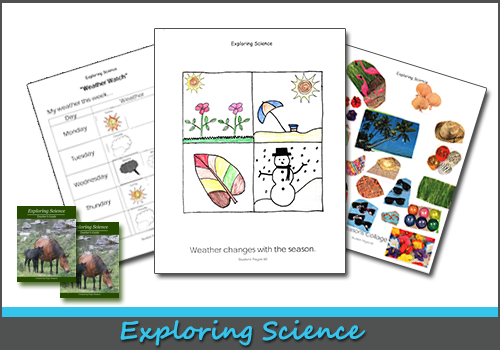 Who will benefit from using Exploring Science?
Preschoolers are naturally wired to be curious, which makes these years a good time to introduce them to the science that surrounds them everyday.  An early introduction to the subject will create an interest that you can build upon once they reach the elementary years.  So, by showing them the miracle of the scientific processes going on around them, you are constructing a basis for their future learning.  Read this article to learn more about why you should teach science to preschoolers.
Exploring Science was written with preschooler (K4 to K5) students in mind.  The program is designed to highlight some of the major concepts of science in a gentle, yet enjoyable way.  Your students will feel like they are playing while they learn some of the fundamental principles of chemistry, physics, biology and earth science. (Check out this review by Maureen at Spell Outloud to see Exploring Science in action!)
Where can I find supplemental material?
Elemental Science offers an experiment kit for Exploring Science with all the hard to find materials.  You can view what's included in this kit and purchase it on our store.  You can also connect with users, find the latest updates and free supplements on our samples, resources and corrections page or at the Elemental Science Yahoo Group.
How can I purchase this program?
You can purchase this program at the Elemental Science store and through Rainbow Resources!