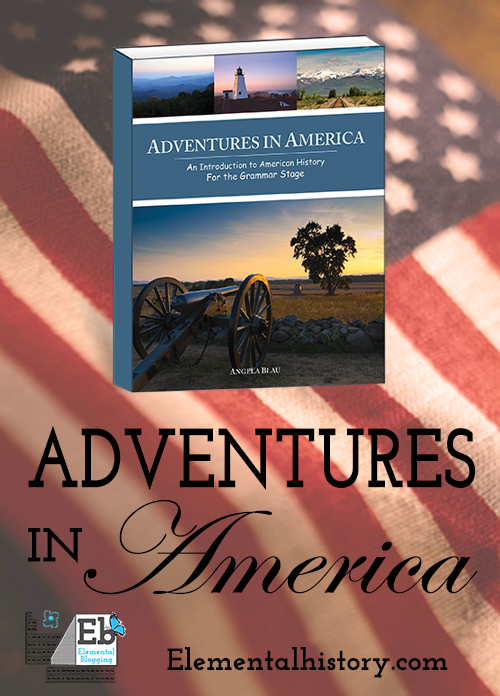 Looking for a story-filled approach to American history for your early elementary students?
We are excited to announce that we will soon be publishing a new American history curricula called Adventures in America.  It is designed to be an early introduction to American history for your Kindergartner or before you begin the traditional four year history cycle.
This amazing curriculum includes brief stories for the teacher to read, so you don't need an additional spine!
Here is a short video introducing Adventures in America:
Adventures in America Program Details
The program includes weekly:
Notebooking assignments;
Exciting, age-appropriate, historical stories;
Optional copywork;
Additional activities, including a study of the 50 states!
The teacher's guide also gives you a schedule for read-alouds, optional readers, and suggested picture books you can use with your students for each week.
The student workbook includes coloring pages, notebook pages and state sheets for your students to use.
About the Author
The author, Angela Blau, is a dear friend of mine.  You may notice her, as she has recently joined the Elemental Science team as one of our editors.   She holds a BS in Intercultural Studies and currently homeschools her own children.
She has spent countless hours researching and writing Adventures in America, so that you can be confident that your student will get a balanced and accurate overview of American history.
Wrap-up
In short, Adventures in America provides you with all the tools to create a literature rich and hands-on environment in which to introduce your students to American history.
I cannot recommend this program enough, which is why we decided to publish it.  Head to our website to grab your copy of this story-filled approach to American history.
The actual program will be available by mid-July of this year.  I encourage you to go, take a look and spread the word about Adventures in America!