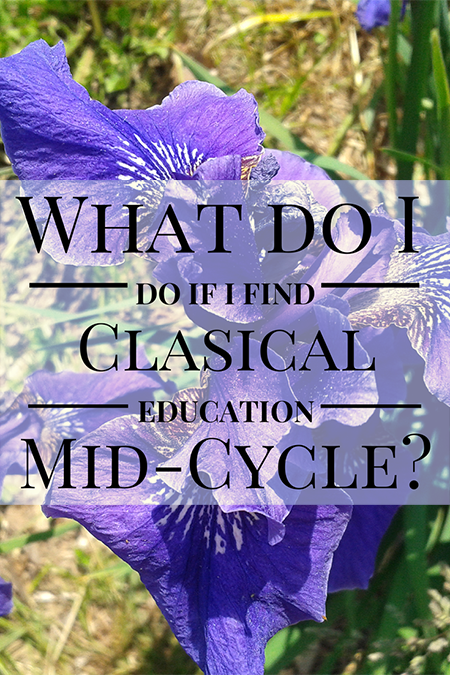 So, you have just stumble upon this wonderful method for homeschooling called classical education.
Maybe you found it when a friend handed you her copy of The Well-Trained Mind. Maybe you stumbled upon the classical science series on this blog and fell in love.
But no matter how you found it, you want to start using this method in your homeschool.
The only problem is that your oldest is in third grade. You want to begin, but where do you start?
Do you dive in mid-cycle for your student's stage?
Do you start at the beginning of a cycle even though you are mid-stage?
I get these questions all the time. So today, I want to share my answers with you.
A little background
Before I do that, we should cover the basic lingo so you know what I mean when I say "cycle" and "stage".
Classical education divides the traditional school years into three stages – grammar, logic (or dialectic), and rhetoric stages. The classical educator understands that as the students' brains mature, they are able to process information in more complex ways. So in each stage, you are taking into account these changes as you decide what and how to teach your students.
Within each stage, you use a cycle of learning, which typically tied in with history. So in year 1, you would learn about ancients, year 2 you would study about the middle ages, year 3 you would read about the renaissance and early modern world, and finally in year 4 you would learn about the modern world. Then, you would rinse and repeat for each stage. The idea is that each of the years in a cycle would build upon each other.
It's a bit different for science, but the same cyclical principle applies. You can read more about what classical education entails on this post:
What should I do if I find classical education in the middle of the cycle?
So now that you understand the stages and why the cycle exists, where do you begin if you find classical education later in your homeschooling journey?
You could wait until you reach the next stage and begin the cycle at that point, or you could choose one of the following options:
Option #1: Start at the beginning.
To begin at the beginning always seems like the most logical choice.
Here's the pros and cons of this option:
Pros
You will begin at the beginning.
Your students will have covered an entire cycle before starting another one.
Cons
You begin a cycle mid-stage, which can complicate finding materials.
You will never complete three full cycles.
Option #2: Dive in mid-cycle.
The most common way to get going with classical education is to just begin mid-cycle where your student would typically place.
Here's the pros and cons of this option:
Pros
You will be where the experts suggest that you should be.
It will be easier to find age appropriate curriculum options.
Cons
Your students won't have the benefit of the knowledge from the previous years in the cycle.
You will never complete three full cycles.
The Bottom Line
Either option you choose will work just fine. I know, not the clear-cut, choose-this response you were hoping for!
Notice that with both the above options, one of the cons is that you will never complete three full cycles. You have to accept this and move on because the truth is that classical education is more about a style, or method, of learning than about a body of knowledge.
Classical education takes into account that you will be able to cover everything in the 12+ years the students are in school, rather it covers the highlights and provides the students with the skills to know how to fill in the gaps on their own.
So relax and begin at the point that best suits your student's interests and abilities!
If you still have questions about classical education, please leave them in the comments below and I'll answer them to the best of my abilities.