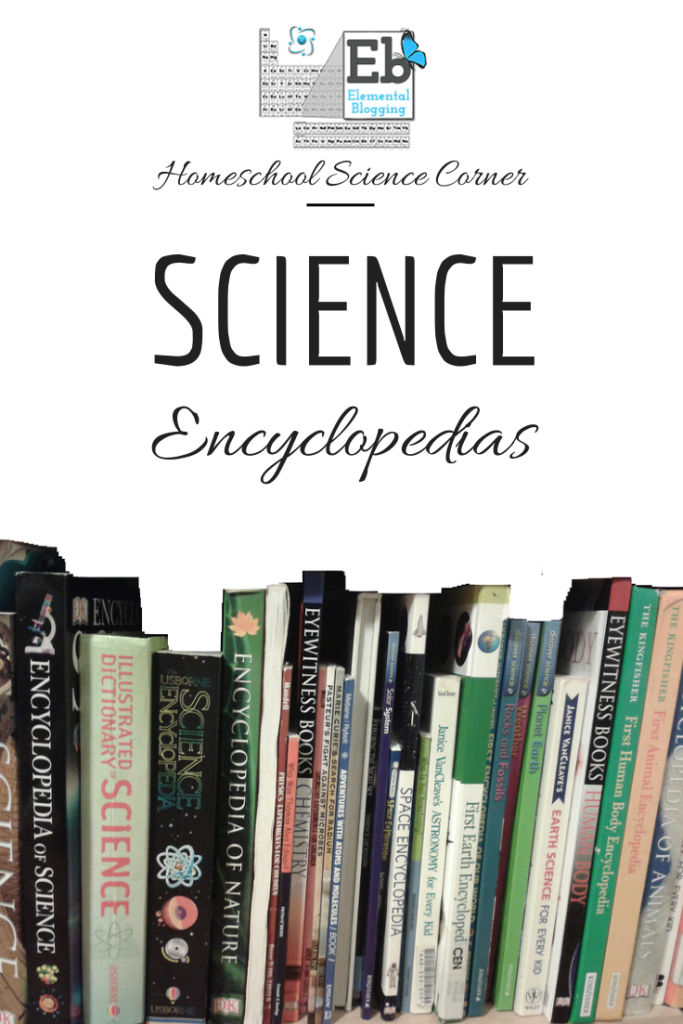 I see A LOT of different science encyclopedias in my line of work.
In fact, "a lot" doesn't cover the volume of children's scientific reference books I have been through.
I've seen the awesome, the good, the bad, and the ugly. I do enjoy leafing through these resources and sharing them with my own children, so I can't complain!
Today, I wanted to share with you some of my favorites – sorted by age and discipline – to make things easier for you :-).
Here it goes…
Early Years
My recommendation for the preschool and early elementary years is more of a series than an encyclopedia:
The Let's Read and Find Out Series (Note – Love, love, love these books! Did I mention that I love these books? Seriously, they are divided into levels, so they make fantastic read-alouds for preschool/early elementary students. On top of that the science is solid. Gotta say it again, I love these books!!
I do also suggest that you let your preschoolers leaf through some of the more visual encyclopedias suggested below.
Elementary Years
Here are my suggestions for first grade through fifth grade:
General Science
Biology
Earth Science
Astronomy
Chemistry
Physics
*A quick note on the Basher Science series – I'm a relative newcomer to this series, but so far it seems like an engaging way to share science with your students. Although I have not run across any yet, I have heard that this series has some questionable phrasing. Generally, I recommend these as read-alouds for the younger crowd so that you can edit on the fly if necessary.
Middle School Years
Here are my suggestions for fifth grade through eighth grade:
General Science
Biology
Earth Science
Astronomy
Chemistry
Physics
A Final Word
I trust that you will find these lists useful as you seek to formulate your plan for homeschool science this next year. If you have any suggestions that I didn't include on the list or questions, please feel free to leave them in the comments below.
Before you go, I must disclose that none of the above links are affiliate link, as I don't have time to put all of those together. Instead, I write programs that use almost every single one of these.
So, if you like these lists, be sure to head on over to Elemental Science to see how these books can be coupled with experiments and notebooking for a complete homeschool science program!