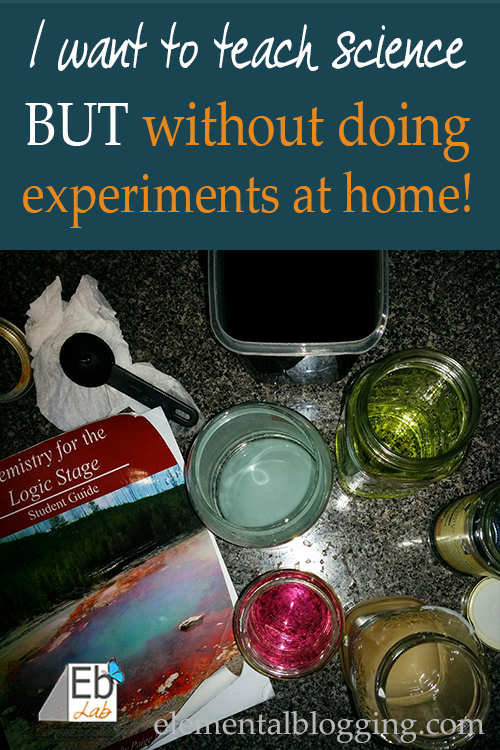 One of the reasons I love going to conventions is that I get to connect with other homeschoolers.
I get to hear about why you love the idea of teaching science and what your struggles are. I get the chance to encourage you in your homeschooling journey and in turn you all encourage me to keep writing about science.
In that spirit, I want to begin sharing a series that will address some of the frequent struggles I hear in regards to teaching science.
I want to teach science, but without having to do experiments at home!
The number one struggle I hear with teaching science is experiments at home.
Experiments are messy.
Experiments don't work.
Experiments are frustrating.
It is a common theme and I understand that doing experiments can be a hassle, especially in the home setting where we don't have access to a lab stocked with supplies!
I understand that experiments can be daunting, but they are one of the key aspects of teaching science.
Why you need experiments in  your homeschool
Experiments are the hands-on aspect of science. Think of them as the flesh of the scientific facts your students are learning about.
Experiments provide practical reinforcement of what the students are studying.
Experiments allow students to interact with science face-to-face, showing them that science is more than just facts and figures.
To teach science at home without the hands-on aspect of experiments would make no sense. It would be like a blind man watching a movie. It will sound right, but you won't really have a complete picture.
Getting over the experiments at home hurdle
I get it – experiments at home don't always work the way you want them to. I'll let you in on a well-known secret – even scientists in the lab have experiments that don't work the way they thought they would.
All experiments are learning opportunities.
If the experiment goes the way it should – great! Your students have had the chance to see the principle in action and have learned more about science.
If the experiment doesn't go the way it should – ask why. Your students will have the chance to practice their skills of observation, logic, and reasoning. In the act of breaking down a failed experiment your students will learn about science.
Here are a few articles to help you out with doing experiments at home:
Some encouragement for those days when your experiments do fail:
Wrapping it Up
I trust that you now feel more comfortable with doing experiments at home.
If you really can't get over the experiments at home hurdle, check out nature study. It is a great way to add the hands-on aspect to science without having to enter the lab, especially during the elementary and middle school years.
If you still have questions, leave them in the comments below!
Want a year's worth of weekly experiments all wrapped up in one easy-to-use package for you to do at home? Here you go.