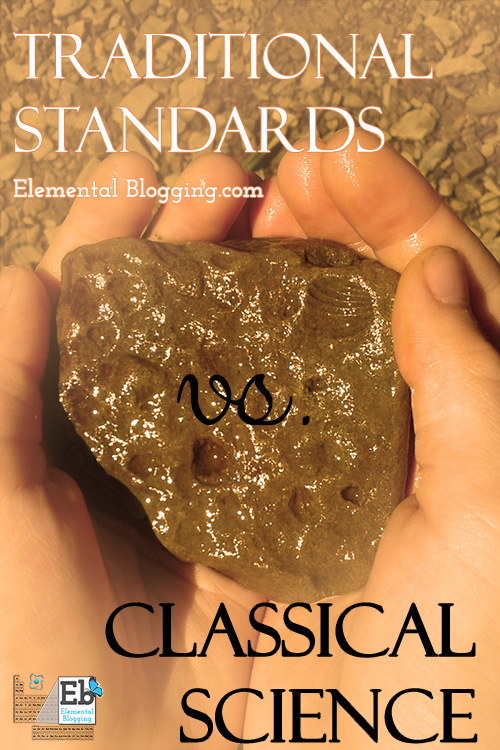 Welcome, once more, to the Classical Education and Homeschool Science series!
The final article in the series will look at the traditional standards vs. the classical methods. I will also be sharing some of the resources I have found to be useful as I seek to teach classical science in my homeschool.
If you have missed a post so far, here is the list of the previous posts in the series:
The traditional standards vs. classical methods in homeschool science
So how does classical science compare to the traditional scope and sequence found in the public school?
Classical science does not follow the typical state standards in order. That said, if you complete the cycle, you will cover all the same topics plus a bit more. For example, the typical standards do not usually cover chemistry or physics in depth before high school.
The student who is classically educated will also study each discipline twice before high school. This means that he or she will have the basic principles contained in a field of science down pat. So once he or she reaches high school, the focus can be on learning the more difficult principles of a discipline. The classical student is also free to really study the math behind an area of science.
The classical student will not follow the traditional model, but rest assured, he or she will be well prepared. The student educated in this manner will be able to handle the rigors college level science when that time arrives.
RESOURCES FOR CREATING A CLASSICAL SCIENCE CURRICULUM
Here are some resources you can use as you formulate a plan for your classical science curriculum.
Teacher Resources
These two books will help you to formulate a plan for classical science.
Experiment Books
These are my favorite experiment books from which to glean ideas.
Encyclopedias
There are lots of encyclopedias and non-fiction science books you can use, but these are a few of my picks.
Resources from Elemental Science
If you have found this series on classical science interesting, but want someone else to put together the materials for you, rest easy!  At Elemental Science, we have made teaching classical science easy for homeschoolers!
Our straightforward plans and customized student workbooks deliver the tools you need move forward with confidence. Each of the programs in the classic series focus on an area of science that is studied through:
Weekly coordinating scientific demonstrations or experiments;
Visually appealing children's encyclopedias;
Notebooking with customized student workbooks.
Visit the Elemental Science website or watch our video to learn more.