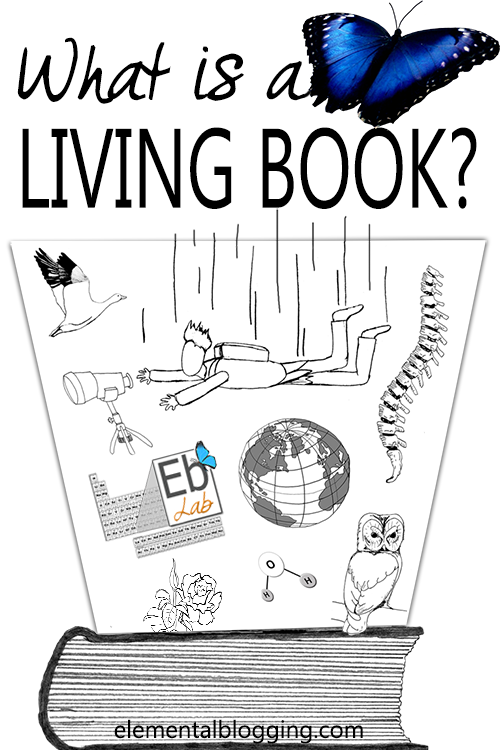 Everywhere you turn, homeschoolers are touting living books and the benefits of using them in educating our children.  The title is being slapped on all kinds of different books, so much so that many non-living books are being labeled as living.
Even I have been guilty of mislabeling a reference book as living, which I believe has largely come out of a misunderstanding of what a living book truly is.  As we have gotten further into our homeschool journey, I have dug deeper into what really constitutes a living book.
I have learned quite a bit along the way and I thought I would share some of the knowledge I have gained with you.
What is a Living Book?
Here is my definition of a living book:
Living book (n) – A book that engages the reader and draws him or her into learning more about a subject; it is typically narrative in style and written by an authority on the material.
Living books are written by someone with a passion for the material or by someone who has experienced the story first hand.
The author pulls the reader into the story and presents the scientific or historical facts in such a way that the student hardly realizes they are learning.  (You can see the following hub page by Jimmie on living books to learn even more about the subject.)
Are Living Books Superior?
In some ways, a living book is a superior learning tool when compared to the typical textbook or encyclopedia. These reference works cover a broad range of topics that are shared in systematic manner. The student can have difficulty engaging with the material and thus, will be less apt to remember what they have read.
However, the living book draws the reader in and presenting the facts as part of a story line, which usually leads to greater retention of the material.  Many children's encyclopedia do successfully use a plethora of interesting pictures to compensate for this downfall, but it still remains a shortcoming of any reference work.
On the other hand, living books are somewhat limited because they focus on one specific topic, which takes time to explore.  In a living book, you must read the story as a whole to learn the material, while in a reference book you can quickly access the information you need.
It may take a week or two to learn about the American Revolution through a living book, but you can read a several page summary about the war in less than an hour from a reference book.  Some students get bogged down in the story and lose sight of what they are learning, which can be the shortcoming of using a living book.
If you use living books exclusively for your children's education, it could take years to cover everything that you would like them to know.  So, whether you choose a living book or reference work for a particular topic will depend on the time you have to devote to your study as well as how much material you would like to cover in that time.
What about Living Books for Science?
When choosing living books for science, make sure you look for books that will draw a student in, but are still educationally sound. You don't want your student's first impression of a subject to be polluted with false material.  Above all, remember that the purpose of using living books in science education is to engage your students with the material they are studying so that they will be more apt to remember what they have studied.
Here are a few of my recommendations for using living books in science:
This post was taken from  an article that will appear in our new theory book entitled Success in Science, due out in September of 2012.  Success is Science provides you with an understanding of how to teach science as well as gives you real-life examples of how to achieve your educational goals.  It's based on years of researching science education, writing science curriculum and teaching science at various levels.  You don't want to miss this very practical book if you want to achieve success in science education!